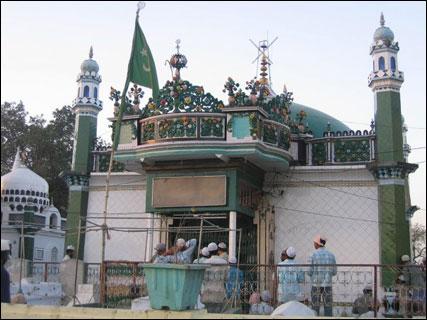 Hazrat Makhdum Sheikh Sharfuddin Yahya Maneri popularly known as Hazrat Makhdum-ul Mulk Bihari or Makhdum-e-Jahan for his spiritual status One of the most Prominent Sufi Saint. His father Makhdoom Yahya Maneri was a great Sufi saint of Maner in Patna district. His maternal grandfather Makhdoom Shahabuddin Pir Jagjot was also a revered Sufi, whose tomb is located at Kachchi Dargah near Fatuha in Patna district.
Biogragraphy
Born on September 16, 724 A.H at Maner, Sheikh Sharfuddîn was the son of Makhdoom Yahya Maneri bin Taj Faqeeh from Al-Khaleel (Palestine). His birthplace is Maner Sharif or Maner, a village near Patna in Bihar. In his early childhood, love for knowledge, religious life, and signs of spiritual greatness, were found. at the age of 12, He left Maner to gain traditional knowledge of Arabic, Persian, logic, philosophy and religion under Ashraf-ud-dîn Abu Towama(a famous professor) Bokharaei in Sonargaon near Narainganj now in Dhaka, Bangladesh where he spent 24 years in his company. At first he refused to marry, but when being ill, he was advised by the physician to take to marriage as the remedy for his disease. He married his teacher's daughter BiBi Badaam. He left home after the birth of a son, named Zakiuddin in 1289 who lived and died in Bengal.
After completing his education he left for Delhi where he met with Hazrat Nizamuddin and a number of other Sufis. there he became a disciple of Sheikh Najeebuddin Firdausi of Nerauli and got the title of Firdausi. To shun material comforts, Sheikh Yahya went into the forest of Bihiya(about 15 miles west of Maner). He later went on to Rajgir (about 75 miles east of Maner) where he chose to do ascetic exercises in the hills. A hot spring, near to a place where he often prayed in Rajgir, is named Mukhdoom Kund, to perpetuate his memory.
At least 30 years in the forests, Sheikh Sharfuddin finally settled at Bihar Sharif. Later Sultan Muhammad Tughlaq had a Khanqah built for him where he taught and trained disciples in Sufism – tasawwuf.